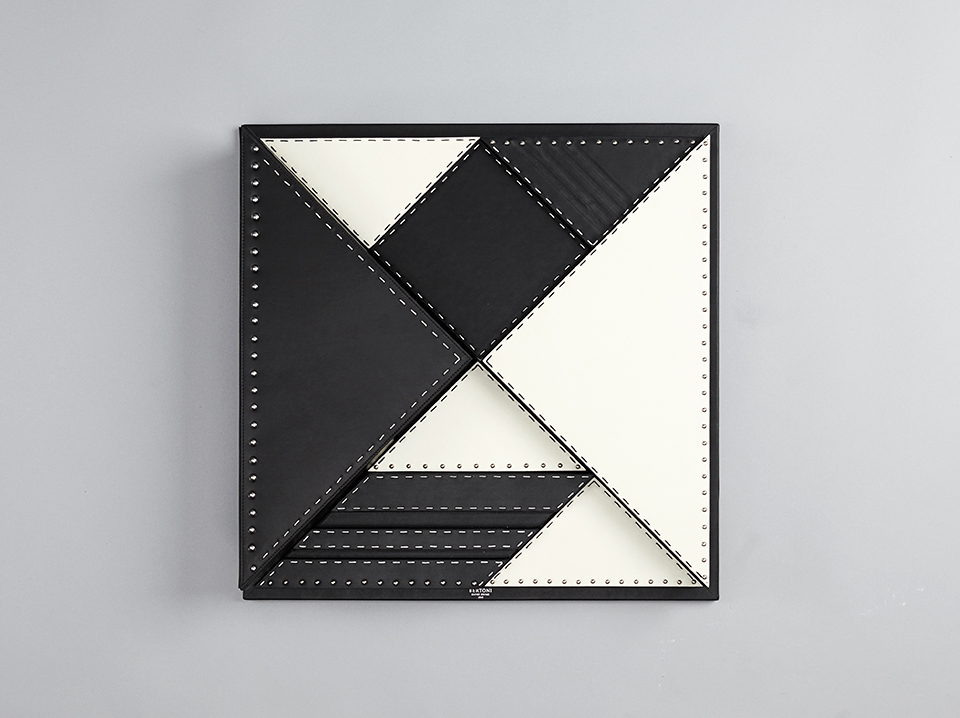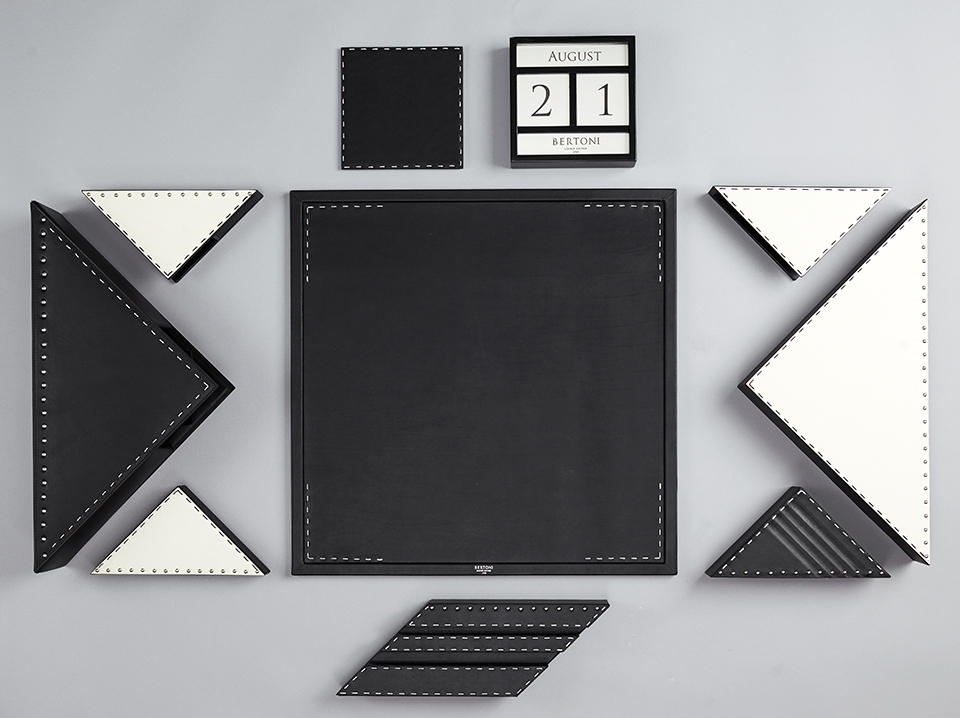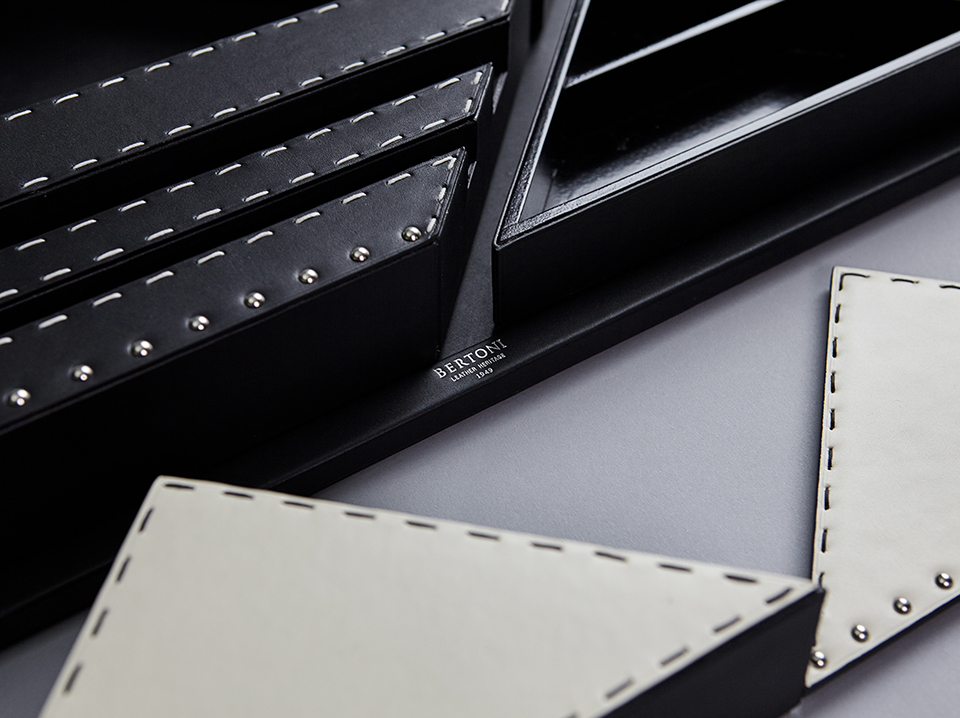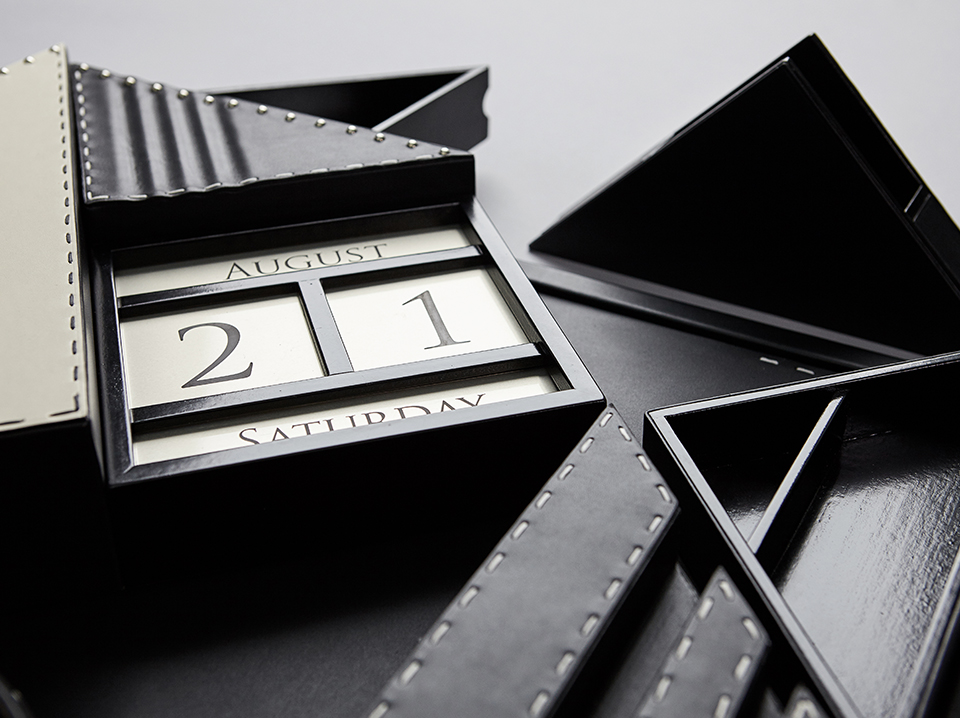 Bertoni 1949 presents Tangram
A leather desk set between luxury and minimalistic rigor
The Bertoni 1949 Made in Italy craftsmanship is harnessed in the aesthetic codes by the group of Hangar Design Group, creating a handmade leather desk set in calf leather, embellished with brass and aluminum details and made in a black toulipier wood structure. The result is a sculptural composition, where the minimalist rigidity imposed by geometrical lines combines with the luxurious essence of this object of desire suitable for those who love to be amazed, to those who want to surround themselves with unique products.
Fine materials and detail care
The workmanship and the precious materials used to create Tangram are the expression of an essential writing and unparalleled care in details, derived from tradition of Bertoni 1949. The final result can only be a functional accessory, with a design that is effective and consistent with the concept of luxury leather that guides all choices of the Maison. If digital is the ordinary, the extraordinary re-employs the physicality of matter, creating a precious product in which the skin becomes sculptured at interlocking.
A collection object at Fuorisalone 2017
Tangram is a small masterpiece Made in Italy, a handcrafted artisan item that combines design with the timeless elegance of black and white chromatic contrasts, emphasized by the preciousness and the variety of materials used. The combination of calf leather, brass, aluminum and wood makes the perfect set for those who do not want to be homologated, who want to stand out by adopting a refined but bold style, both at home and at the office. The accessory, featuring an unusual originality, was presented during the Hangar Grammar event, which was held on Thursday, April 6th in Viale Bianca Maria 23 in Milan, on the occasion of Fuorisalone 2017, in the name of the lasting collaboration between the two companies.